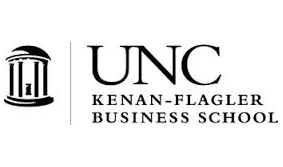 University of North Carolina Kenan-Flagler Business School
UNC Kenan-Flagler Business School was established in 1919 in Chapel Hill, North Carolina as part of the University of North Carolina. Its research is recognized in both academic and corporate circles, and makes an important impact on the practice of business.
Researchers at Kenan-Flagler are from the world's top universities, and their backgrounds are firmly rooted in academic excellence. Their expertise includes working in corporate and entrepreneurial settings, serving on company boards and consulting with organizations around the globe.
The areas of expertise within research at Kenan-Flagler include innovative strategy, corporate finance, leadership and sustainability.
Research centres include:
The Center for Air Commerce helps airports, communities and governments leverage their aviation assets for competitive advantage
The Behavioral Lab serves as a focal point for behavioral research at UNC Kenan-Flagler
The Center for Competitive Economies offers objective research and analysis, strategic planning and engagement support that helps community leaders and their businesses create sustainable economic futures
The Wachovia Center for Corporate Finance promotes excellence in corporate finance ed-ucation, research, and outreach at The University of North Carolina at Chapel Hill
The Center for Entrepreneurial Studies fosters a culture of entrepreneurship at The Uni-versity of North Carolina at Chapel Hill
The Center for International Business Education and Research (CIBER) helps students, educators and companies develop the tools to build critical trust and business across boundaries
The Center for Logistics and Digital Strategy transforms the way organizations recognize, predict, evaluate and respond to complex and critical events to become more competitive, profitable and sustainable
The Center for Real Estate Development provides leadership through global education, re-search and outreach to help business leaders create and manage the built environment in ways that ensure positive impact and sustainable results
The Center for Sustainable Enterprise helps leaders learn how to bring profits to a triple bottom line, blendin doing the right thing for people and the planet with business goals
The Kenan Institute Asia provides expertise in Asian development and promotes sustaina-ble development in the region
The UNC Tax Center builds bridges between tax scholars, policymakers and practitioners
Urban Investment Strategies Center develops innovative solutions to the challenges of re-vitalizing distressed communities
Click here to learn more about UNC Kenan-Flagler Business School's research.
Click here to view UNC Kenan-Flagler Business School's executive education profile on IEDP.